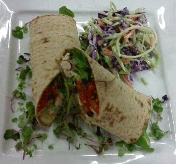 If you've been thinking about becoming a Personal Chef...


...but unsure of all the details needed to get started, I can help you in every aspect of the business from start up paperwork, web design, marketing, to speaking with clients, menu preparation, party planning and so on.

I will give you one on one attention to answer all your questions in business and food. I will work with you to help with as little or much as you need. A shadowing is a great start, especially if you're right out of culinary school or someone who is just interested in a food career. I can help to show you what is involved, before you jump into becoming a chef or starting a business.

I have started two successful businesses, Bellyful Meals a Personal Chef Service and Hourly Chef a Chef Hiring Service (which I rolled back into Bellyful Meals). I have also worked with restaurants to design their menu, train chefs and help starting up back of the house operations. I have worked with hundreds of clients and parties. I have self-built both my businesses from the ground up, responsible for everything from finance, design, menu planning and cooking. I can show you the basics and beyond needed to start up your own personal and/or private chef business.